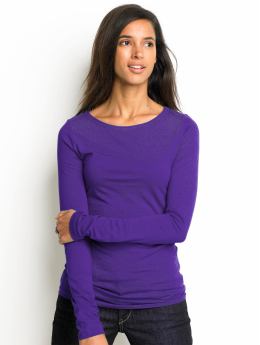 The modern tee-shirt has got to be, hands down, one of the most versatile pieces of clothing available to man and womankind. Prints, solids, hand painted, embroidered, long sleeved, cap sleeved, fitted or full, there's a style and fit for every body. They are pure simplicity wrapped in plastic and bought in 3's or Art on Cloth. We wear them easily with jeans and unexpectedly with long satin skirts. My favorite classics were $19.99 soft, 100% cotton 3/4 sleeve boat necks by the GAP but since the company decided to squash my obsession and abrubtly discontinue them, I've found an excellent replacement in the Banana Republic Solid Fitted Tee (left)
- a bit more expensive at $30.00 but they wash well and keep their shape. They look as fabulous under suit jackets for the coporate office as they do topping a denim skirt with tall boots on casual Friday. A much less expensive option are the Old Navy Stretch Crew Neck Tees
. Ultra soft and at $14.50 stocking up on them in the wide array of colors available won't be a budget-buster.
under a long cardigan sweater for luscious comfort. For a whimsical edge, I adore my tee shirts by Lucky Brands
.
Of course this post would not be complete if I did not feature an indie discovery. I found the adorable Antisparkle shop on the artisan marketplace, Artfire. This small frosted cake lover wants to give these fun signature cupcake tee shirts
to all of my sweet freak friends this holiday season.
Pretty soon I'll need a closet just for all of my tees. I'm afraid to count but I actually may already own enough to have a different one to wear every day of the year. Hey, don't judge.